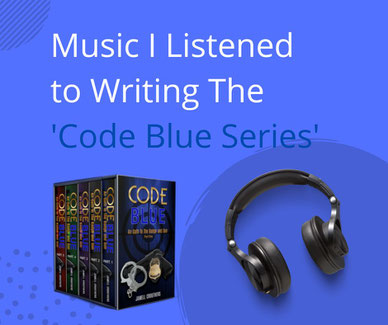 To get into my zone to write the Code Blue series, I had to be angry and emotive. I knew there was no way I could be cool, calm and collected. Different series bring out different emotions. Writing The Struggles and Growth of a Man, Code Blue, Kids With Guns and The World We Live In had different emotions and feelings throughout the process. 
With Code Blue being a series that raises so many questions and concerns, I had to listen to certain music artists and albums to get me in that place. I had to bring out Gary and his life so here are the artists and albums I was listening to:
Nas-Nas and Nasir
Killa Kyleon-Lorraine Motel
Killer Mike-R.A.P. Music
Kendrick Lamar-good kid, maad city, To Pimp A Butterfly 
Lupe Fiasco-The Cool 
Jon Connor-Unconscious State
The Black Opera-African America
Apollo Brown & Ras Kass-Blasphemy 
Childish Gambino-This Is America (single)
I want to thank these artists for getting me into a zone to write this series. The album that was on repeat the most was The Black Opera-African America and Childish Gambino's single, "This Is America," was heavily played while writing the series. 
A lot of times you need certain music to get your mind to a place to write great, quality content. I kept a lot of people in mind while writing this series. All of the people who have been killed senselessly due to police brutality, all of the people who have been abused and mistreated at the hands of law enforcement. 
It was an emotional experience writing this series and I'm thankful I was able to write a five book series on this major issue in society. Always remember, music is part of every book I've written and will write in the near future. 
Be good everyone and go accomplish your goals!
Jamell Crouthers
Aquarianmind