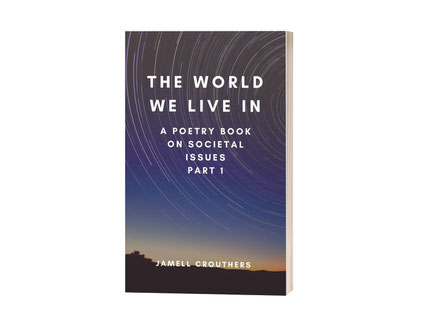 Writing, 'The World We Live In Part 1,' it was honestly supposed to be a stand-alone book. It explains why the endings for each character happened the way it did when you read Part 1. Then came the idea of writing three books and I finally decided on a five book series. 
When I decided on a five book series, I was in the middle of writing five book series for Code Blue and the Struggles and Growth of a Man. So imagine trying to write three different series at once. It was a lot to write and accomplish and would definitely be a tough feat. 
Developing the characters, there wasn't the intention to write 19 characters. I just thought of common names of people and just wrote them down. Next came what would their life story be. I spent time thinking of all the major issues that we face in today's society. Drugs, alcohol, sex and porn, gambling, domestic violence, gender, homelessness, depression, sexual abuse and rape, women's issues, men's issues, self-esteem, idolizing celebrities, child abuse, there was a lot to cover.
In my mind, once again I'm thinking to myself, you're crazy. As you know from previous blogs when I tell myself I'm crazy, I know I have to do it. There was this challenge to write this series and see how far I can take this. How am I writing these characters to where you will feel and go for this ride into their lives and what they're struggling with. 
Brainstorming sessions I remember took up most of the day as I had to line up everything with these characters. When I started to write it, if you look at the characters and how I wrote them, it's female next is a male all the way through the book. That was intentionally done to break the monotony of reading chapters of men in a row or women in a row. 
When writing this first book, there were a lot of emotional moments where I had to stop and breathe for a few minutes. Remember I had to immerse myself into these characters and tell hard-hitting stories that will shake you to the core of your existence. That was my intention and goal. If I was stopping and taking breaks, that was telling me I had something brewing and it was going to impact people in various ways. 
I would say this book was the most challenging to write because I had to tell 19 different stories, these characters all had to have their own personalities, backstories, current stories, life situations and thoughts of their own. I had to step into their shoes and tell a story that will make you realize that we are all going through our own internal battles and we have to be more understanding of each other. 
Finishing the book, editing it was the hardest part and I was so thankful to have been able to write a book like this. It was enjoyable to bring these stories to light but then it was also sad because this is our reality everyday. 
The World We Live In Part 1 of the series is available on Bookpatch and all other bookstores! Stay tuned for Part 2 insight next week! 
Be good everyone and go accomplish your goals!
Jamell Crouthers
Aquarianmind