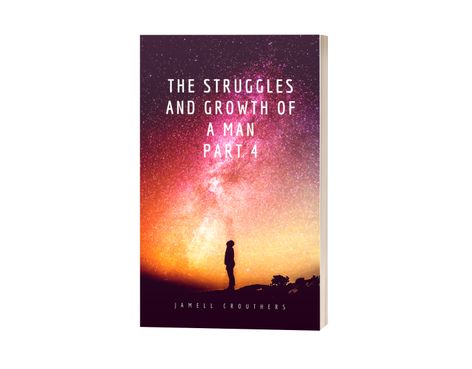 When I started the thought process of writing, 'The Struggles and Growth of a Man Part 4' to this series, it was a challenge for me. It was, how can I really keep the reader fully immersed in this series and how can I make this book standout from the rest of the books? Then the light bulb went off, including Michael as the 2nd main character. 
Once I knew I was going to do that, now it was how is his story going to correlate with Robert's? Yes they are brothers and they have been apart for five years so now it's about building their relationship. The start of the book is a big mistake Michael makes by going back to where he grew up and paying a price for it. 
Next is Robert realizing not only does he have to figure out his life, but he has to get out of the city that made him a man in good and bad ways. You realize that Robert has this ultimate dream to become a motivational speaker and he knows what it's going to take to get there. 
With Michael, you get to see his softer side after prison life for five years. He starts reflecting on his life and wanting to follow in his brother's footsteps. While he's reluctant to leave, he knows in his heart it's what is right for him. As the back and forth dialogue of their thoughts is the main focus of this book, you see their relationship culminate into something special as the book progresses. 
I felt that this book was the start of both brothers leaving the dark tunnels they've been engulfed in for so long. They're starting to come into their own and becoming the men they want to be and not what society wants or expects them to be. I felt that I had to write that because too many times men become fixated on what society wants and expects them to be. 
That is my book insight for this week, the finale is next week with Part 5 of this series. The Struggles and Growth of a Man Part 4 of the series is available on Bookpatch and all other bookstores!
Be good everyone and go accomplish your goals!
Jamell Crouthers
 Aquarianmind