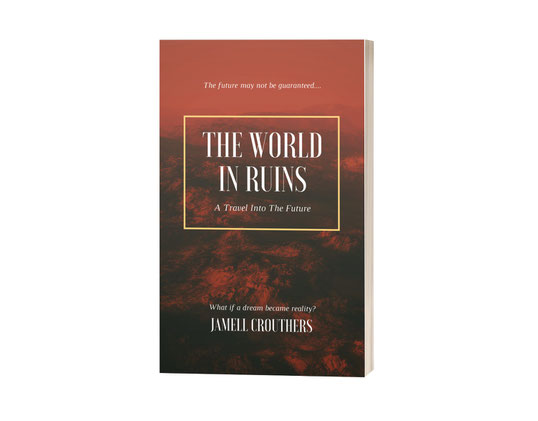 This book has been a long time coming and I was trying to hold off on this book for some time but I felt it was time I released this book in the climate of this world. This book has gone through a few edits, re-writes and I'm finally able to say it came out the way I wanted it to. I actually wrote the book in 2017 and I pushed it back because of other projects I wanted to push out to everyone.
I've also gone through a few book covers that I made myself and I finally decided to go with the one you see. Sometimes book covers don't fit the vision and I needed to be able to encapsulate exactly what this book should be. 
The World In Ruins: A Travel Into the Future is about a young teen named Derek who has a dream about the world being in complete ruins decades into the future. He chronicles this journey after this dream/nightmare and he goes back and forth between what he's seeing in the future and also saying what the cause of it is in our current state of the world. It's definitely a different book as it's written in prose format and it's from his perspective.
It's very rare that a book has one character but this book does and it allows you to get to know Derek, what he thinks, feels and how concerned he is about what's going on in the world currently. While this is a fictional, prose diary of current events, I felt this book was important to write and let people know what the world could potentially be in the future if we don't do our due diligence.
As far as notes and how I formulated everything, I didn't want to scare people but I still had to be truthful in what I'm saying. I knew I was incorporating Derek into a story where you'll be immersed in his dream and wondering what will happen next. 
The message was more important for me to say, "this is real and what are we doing about it." I wanted to make sure I tackled the major things that are to come. I needed to get the message out more than trying to force it into people's mind, I can deliver messages to people in other books. 
While I didn't hit on everything, I wanted to make sure I had a character in place and to touch on the major things that are going on right now. Hopefully this book has an impact on readers and makes us realize that we have to start doing way more than just living life as if everything is fine or that other people will do their part. If we all come together as a human race and put so many things aside (race, religion, social status, financial status), we can have a huge impact on what happens to the world.
This book is available on the Bookpatch and all other bookstores!
Be good everyone and go accomplish your goals!
Jamell Crouthers
Aquarianmind