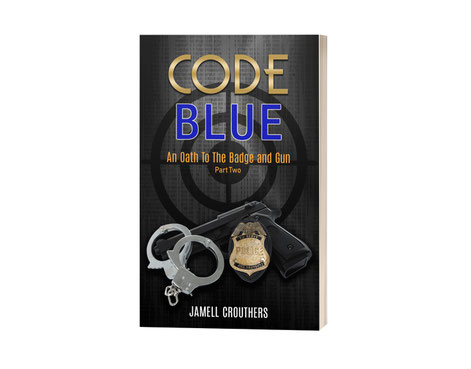 The start of 'Code Blue Part 2' is hard hitting which is what I love to do to get readers drawn in and ready for the ride. It's more of preparation for what's to come and the turmoil Gary will get entrenched in while trying to maintain his sanity. It's a battle of heart and mind along with wills. 
Gary, Jr. is a smart kid and I made him that way because I wanted Gary to look in the mirror at himself and realize that he has someone looking up to him and the news media broadcasts are showing what's going on in the streets. Now, Gary's work life is coming home with him and there was a price he had to pay for it. 
I had to say, there are consequences for your choices, decisions and inaction when there are wrongdoings going on outside of his home. Gary is a police officer not only to serve and protect his community but also to support his family. He now loses his family and is confined to a home of loneliness and nothing to look forward to after his DOJ deposition. 
Not only do I put that out there, I made Gary vulnerable in a lot of ways and I had to bring that to the light. While he has to press on with his life and go earn his paycheck, he has to live with these decisions he makes everyday by walking into an empty home and a bedroom he can no longer sleep in because he misses his wife. 
For me, there has to be struggle in his personal life in order to make this book more important than just writing about his work only. There's the protagonist/antagonist aspect of the book again. The protagonist in he's a family man and takes care of them but the antagonist in how he is continuing to let all of this craziness go on in front of his eyes everyday. So it's you feeling bad for him but then you're angry at him at the same time. 
There's this feeling and emoting with and against Gary but then saying to yourself, does this go on in the real world on police forces? The goal is to have you thinking while feeling at the same time and then processing Gary's realities as not only a police officer but as a man who was raised on morals and values and that comes to a head at this juncture of the series. 
Code Blue Part 2 of the series is available on Bookpatch and other bookstores. Don't forget there's an audio version too! Stay tuned next week for Part 3 insight! 
Be good everyone and go accomplish your goals!
Jamell Crouthers
 Aquarianmind