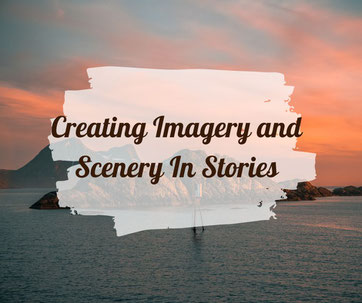 One thing that's very important to me when writing stories is setting the scene. Creating imagery in your mind to put you there. I always strive to create that and I've been told I do a good job of that. I do this because when I read books myself, it's something I want in a story. I want to be put in that scene and in that moment. 
When I write my books, I can type out what I'm saying while visualizing it in my mind. Depending on the book or the series, I know that with each character, they have to stand out from the rest but I'm also trying to get readers to feel and emote what that specific character is saying. 
With 'Kids With Guns Part 1,' each character I write, it's a challenge to create an image and scenery of the horrific school shooting from their perspective. Lena's perspective and Jerry's perspective will be totally different from what they recall and remember from the school shooting.
Every character had their perspective of what they were feeling and experiencing in that moment. Marc and Brittany will have totally different perspectives as Marc is an FBI agent and Brittany is a news reporter who survived a school shooting as a teenager. That was the fun challenge of writing different points of view for all of the characters involved. 
The beginning of every chapter, my goal is to set the scene. You know the character's name and sometimes you may know the role they're playing in the story. With Kids With Guns, you know what role the character will play in the story. With The World We Live In, you won't and you'll have to wait until the scene is set for you to know the character's story. 
Never forget how important it is to bring it to every book and every chapter you write. Don't wait long to get a reader engaged, don't drag the story and hope the reader will keep up. Pack a punch because that's how you create a memorable story, trust me on this.
Thank you all for continuing to read my blogs. Be good everyone and go accomplish your goals!
Jamell Crouthers
Aquarianmind