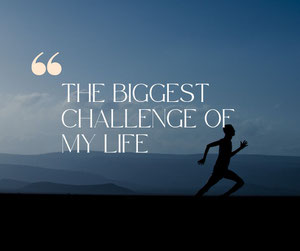 Graduating high school? Nope.
Graduating college? Nope.
All of the jobs I've had in Corporate America? Nope. (noticed I said jobs, not career).
My biggest challenge in my life is this writing journey I'm on. It's challenging in so many aspects and I'm going to explain to you everything and break it down.
Writing books-like I've said in previous blogs, I would've never thought I'd publish one book let alone over 20 (up to this point). It's a challenge to write content that is going on in the world and to get people to realize that we can make the world a better place. That's why my mantra is, "trying to change the world, one book at a time."
I love the challenge of writing relevant content that will not only last in the moment now, but also in the future. I want my content to live on forever when I'm dead and gone (whenever that time comes). I'm trying to be legendary in what I write (not everyone will take a liking to my books, I've accepted that).
Trying to find readers who are interested in my books, getting book reviews and getting a consistent audience, that's the huge challenge. It's a grind but as long as I'm doing the work daily, the results will show.
Blogs-writing these blogs for you all to read is a challenge. Every blog for me has to be not just relevant in the moment when you're reading it, but 10 years from now, these blogs can be read and people will resonate with what's being said. That is the reason why I write blogs like these about my challenges, motivational blogs, blogs about my struggles, and blogs about how I write my books.
I always feel that readers don't ever get the opportunity to know how authors write their books and why. There's a reason for every book I write, I don't just write content just to do it. There's basically a method to my madness and I write with a purpose. It may not always sound right, it may not be perfect but we all have our imperfections.
Audiobooks-there was never a thought of doing audiobooks (I wasn't even thinking about paperbacks in the beginning of all of this). But as any entrepreneur (especially an author), you have to adjust to the market and what's trending. People love to multi-task, do things faster, some don't like to read words but listen to words so audiobooks have become one of the fastest forms of taking in content these days.
The thought of paying hundreds of dollars per book (imagine trying to get 10 audiobooks recorded by narrators), that's give or take close to $5,000 of money to spend getting audiobooks recorded (because eventually you'll have to get them all recorded). That kind of money can be spent in so many other avenues and arenas.
The other aspect of this is, the reader (or listener) would love to hear the author's voice, they wrote it, right? So I had to figure out how I was going to record audiobooks, let alone just do one book. I bought a small microphone from Amazon and found an app on my iPad and got to record. Then...it sucked and it didn't sound the way I wanted it too.
I decided to stop being cheap and went and invested a little more into a more efficient microphone, found a better app for recording and went inside of my closet to record my audiobooks. An enclosed space where you basically feel like you're in a booth in a studio and I began recording. A lot of mess ups, mistakes, trying to pronunciate everything is a process. But man when you finish one book, you feel soooo accomplished.
Now, I'm back to recording audiobooks and my goal is to record all of my books and have them all on my website (I will not be selling them on Amazon for business purposes). Currently, The Struggles and Growth of a Man and Code Blue: An Oath to the Badge and Gun are available for purchase. 
Podcasts-discussing relevant topics that are going on in not only America but also around the world is very important to me. Writing scripts for my podcasts so I stay on topic is good for me and it's more of small key points that I want to hit on during that specific podcast.
With so many things going on in the world, I try to record my podcasts within the moment but sometimes it may take me 1-2 weeks to hit on a subject that's been going on. I wait for the news coverage of certain things to die down a little bit before I discuss it in its entirety.
Making sure I discuss relevant topics and issues is the goal and I want my podcasts to be engaging and make you think. I'm also sure to share my thoughts and experiences on certain subject matters so you get to know me a little more and who I am as a person and as a man, not just the author, writer and talker on the podcast.
YouTube-this website has become more challenging since my days of recording sports videos on the NBA. Algorithms have changed and trying to engage takes time. I have gone away from YouTube for the past few months and a lot of it has to do with all of the projects I've been working on.
Utilizing YouTube will help me in the long run when I get back to share the books that I've published. I try to recite poems that I've written recently that make you think about life. I will be working on more avenues and ways to get people to become engaged on my page.
Social Media-the reality is I give bits and pieces of me because in reality, knowing me personally and my journey is when you'll truly know me.
This writing journey has been nothing short of challenging for me and it's everyday. I'm approaching 5 years on this journey and some days are great and others...well...I wanna scrap all of it and do something else.
Nothing comes easy and it's all a test to see how much you want it, remember that.
Be good and go accomplish your goals!
Jamell Crouthers
Aquarianmind