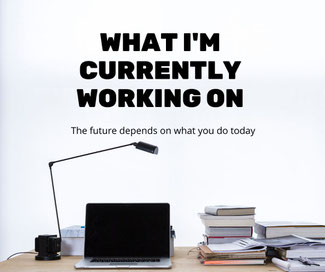 Right now, I'm currently working on finding time to record my published books into audiobooks. It's very time consuming so it's necessary for me to carve a few hours during the weekend so I can record a few chapters. The average book takes a month to record it the right way, have the right tone and for it to sound the way I want it to (I'm a perfectionist in a way). 
As far as other projects, I'm in the process of writing new books so they can be ready for their publishing date. I have dates setup for my books I'm writing for the next few years. For me, having those goals is what keeps me aware of what's the most important (writing). 
My podcast is always a work in progress, recording my blogs into audio format so I give everyone the opportunity to listen to my life as an author and entrepreneur. I'm always trying to give everyone a glimpse into everything that goes on with me.
I will do my best to continually update everyone on what I'm currently working on so you can keep up with my progress and see the process of recording, writing, editing and other things. 
Be good everyone and go accomplish your goals!
Jamell Crouthers
Aquarianmind