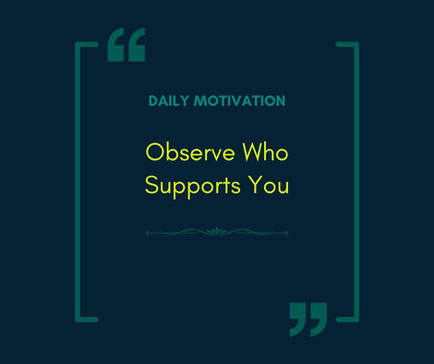 I want to ask you an important question. Have you taken the time to observe who really supports you? I'm talking about people who care about your success and your well-being on a regular basis. They ask about your goals, your journey, the grind you go through and what your end goal is. Have you thought about that?
If you haven't, I am going to ask you to do that. This is what I mean by people who really support you. They're reposting anything that you post on social media, they're shouting you out to their family and friends, they're buying your product or telling people to look out for you and what you're doing. They text or call you to see how everything is going with what you're doing, they leave reviews on the product you have and are selling.
Sometimes if you stop talking, you don't reach out to a few people for a while, you watch and observe people and how they move, you'll start to see who supports you and who doesn't. It's very easy to do, listen more than talk, watch more with your eyes through observation and hone in on actions than words. It's easier to get caught up in people talking than actually taking the time to do things proactively.
Do your due diligence in regards to this, it will make your life easier. It allows you to make your circle smaller, it eliminates jealous people, envious people and people who don't want to see you succeed. Grind with the people who have been with you from day one and you'll go far in whatever you're passionate about.
Be good everyone and go accomplish your goals!
Jamell Crouthers
Aquarianmind