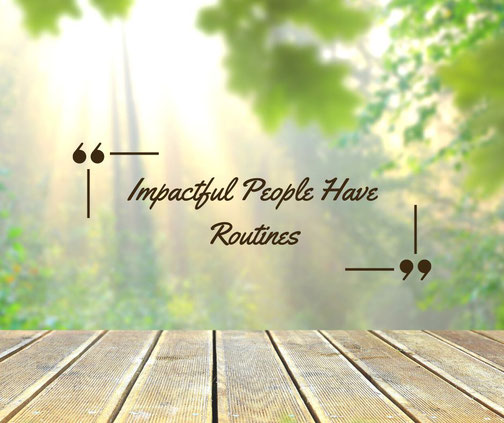 The most impactful people have routines and every single day. CEOs of the biggest companies in the world have routines that they follow all of the time. I watched a YouTube video on it and I've read articles on how CEOs of big companies do the same things daily.
When it comes to my daily life, I wake up at the same time daily and do the same things. My work schedule has been the same for 4 ½ years and I eat at the same times most days. But it's not necessarily those routines that matter to me, it's the things I do outside of that realm. 
Most CEOs have their days carved out in regards to what they want to do, have to do and how they're going to get it done. They have to not only make decisions on the company they're running but also engage with their employees and team. That's the part I think about a lot. 
My routines with my "to do lists" every week, the days I'm going to write, the time I'll spend recording podcasts, when I have to edit and format certain books. Everything is organized and calculated for me. It's the reason why I've been so successful in the 4 years I've been doing this. 
CEOs are planning days and sometimes weeks ahead to stay on par with what their goals and vision are. For me, I'm not only planning a week ahead, I'm planning months and now even years ahead. I've got my books planned out for the next 3 ½ years and how I'm going to write them. I have book covers for all of them, outlines are mostly written out already. 
In hindsight, I am a CEO but in an author's world. As a self-published author, like I've mentioned in previous podcasts, every single decision falls on me. None of it is easy in any way and it only gets harder as the journey continues. You can't get too high but you also can't get too low. It's staying level-headed everyday and not letting the outside noise and distractions get to you.  
In my mind, to look at people who run major corporations that have certain things they stick to daily, it only means I'm heading in the right direction. I'm okay with being a hermit, not going out much, I know that my vision will only be achieved through discipline on a daily basis.
Take the time to think about what decisions you have to make regularly. Then think about how you can eliminate those constant decisions so you can focus on more important tasks. The less repetitive decisions you have to make, the better off you'll be to have your mind clear of clutter. 
What sacrifices are you willing to make to achieve your goals? What do you think it takes to get to the finish line? When you get to the finish line, are you done? Are you fulfilled? What is the next goal you chase? 
It's all a journey, remember when you impact others, it all comes down to decisions.
Be good and go accomplish your goals!
Jamell Crouthers
Aquarianmind