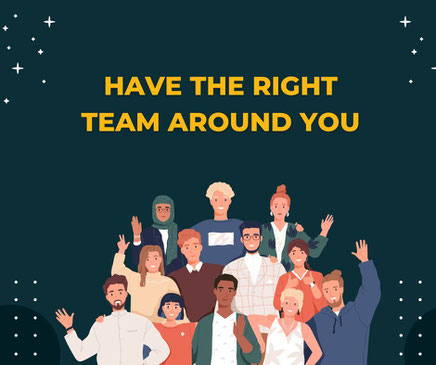 Being an entrepreneur or doing something big will always require you to have a good team around you. Some of us are going at this alone (which is me) and for many reasons but it doesn't mean I don't have a good team around me. My team consists of those supporting me, my vision and what I'm trying to accomplish. 
I was having a conversation with a good friend a last year and when I told him that I do everything alone (write books, edit my books, format my books, make book covers, publish my book, market and promote my books, social media engagement, record podcasts, record audiobooks, record YouTube videos, write these blogs, write screenplays) he asked me how I do it, I told him it's the drive and knowing my own vision.
He told me that it takes a great team to accomplish a lot. That's very true and it's hard to have the right people around me. I make sure that everything falls on me, every decision, every success and every downfall. The journey is lonely as Gary Vaynerchuk says and it's so true. The good team I have around me are my supporters (my closest friends) which makes a huge difference. They have been nothing but supportive in my writing, my journey and my vision and that same friend and his wife bought one of my books and I was just so thankful. 
Make sure you have the right people around you who are going to push you to be great. This requires paying attention to how people move, how people talk, how they support you, what their intentions are. Being observant, listening with your ears, your eyes and your gut. When you feel something or someone isn't right, you have to remove them out of your circle. 
The right team is what matters, don't ever think that this doesn't matter. I'm thankful for the few people who care enough to want to see me succeed and I want the same for them. So take the time to see who's really there for you, who is really on your team. Understand and know that the smaller your team is, the better off you'll be. 
If you're starting a company, have a team that you can trust. We will all have a point in time where we don't even realize someone is jealous or envious of our success. Or there is someone that we can't fully trust and every entrepreneur has gone through it. Randall Pich the CEO of Live Fit said that the people that were closest to him that he trusted and hired into his company were stealing apparel from him and he caught them on camera. This is after he hired them full-time, gave them medical and dental benefits, a 401k and they still wanted more. 
Figure out what works for you, if you want to go at it alone, be prepared for everything to fall on you. If you hire a team, make sure you have the right people you can trust.
Be good everyone and go accomplish your goals!
Jamell Crouthers
Aquarianmind