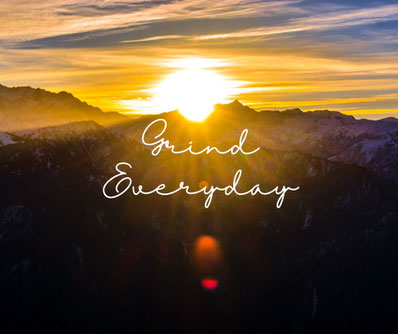 Here's one thing that I want you all to understand, when it comes to accomplishing your goals, the grind has to be consistent. I know what you're thinking, it has to be everyday? I would say at least 5 days a week, I'm not necessarily saying you have to work toward your goals for hours a day. What I'm saying is do something that'll get you close to the end goal.
Grinding doesn't mean that you're doing work for 10 hours a day, it can be 4 hours a day on the weekend and maybe 1-2 hours during the week (if you have a full-time job). The grind means that you're also thinking, processing things, mentally focusing on certain things. The grind can mean just writing down things that have to be done. The grind can be reading up on something that'll help you toward your goals. It can be a plethora of things when you think about it.
The grind everyday for me is an hour a day Monday-Wednesday, Thursday is 3-4 hours, Friday-Sunday is 6-7 hours per day. That's my average and it changes weekly depending on how I'm feeling physically and mentally. Some days I do more work than others but one thing is for sure, I'm always doing something that's going to get me to where I want to be. For me, there is never an end goal, there's always work to do.
If you need a certain amount of sleep daily and an allotted time for leisure (gym, listening to music, thinking, relaxation, TV shows) then do that. I just want you all to stay focused on the task at hand and the work that has to be done to achieve greatness. Life is a balancing act and it can get hard at times with so many distractions being thrown your way. Mental focus will be the most important thing you'll need to get to where you want to be.
So when I say grind everyday, it means stay focused and remember why you started. Have a mission statement for yourself and stick to it. Mine is "Trying to change the world, one book at a time."
Be good everyone and go accomplish your goals!
Jamell Crouthers 
 Aquarianmind