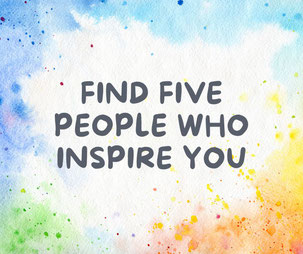 I want to ask you an important question, who inspires you? Who motivates and inspires you daily? Who gives you that drive and push when you need it? Is it a family member, an entrepreneur, or a close friend? I ask this because sometimes we don't even realize someone is inspiring us to be great.
The title of this blog is important to me because I've found some inspiring people on my journey. Gary Vaynerchuk, Eric Thomas, Inky Johnson, Randall Pich and Simon Sinek all inspire me in some way daily. They all have a purpose and they strive for greatness in everything that they do. 
They've played such an important role in my writing journey and all of the other things I work on daily. That's why I am telling you to find 5 people who inspire you and follow their lead. The people who inspire and motivate you should be those who live life with intention, purpose and impacting others. 
These people don't have to be entrepreneurs or motivational speakers like mine are, they just have to be people you look up to. The people who inspire me understand the value they bring to people in their lives everyday. That's what I aspire to be and want to become through my writing, and everything else I do.
My passion and love for what I do drives me. I spend a lot of my days watching videos, listening to these inspiring figures and taking a little bit from all of them. They all have different drives, personalities and approaches to how they do things and I love that. 
Take the time to think about people who will inspire you to strive for greatness. If you don't have five, all you need is one and you're good to go.
Be good everyone and go accomplish your goals!
Jamell Crouthers
Aquarianmind