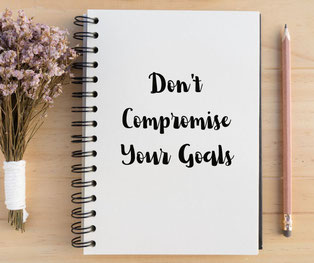 Sometimes in life we compromise with people to make things better in certain situations. When it comes to our goals, we should never compromise and here's why:
1. You should always be around people who will push you to strive for greatness.
2. When you compromise, you're mentally telling yourself, your goals aren't important to accomplish.
3. Compromising your goals for someone else is being selfish to yourself.
4. Knowing yourself and how important things are to you is imperative.
5. You are preventing yourself from growth mentally by pushing your goals to the side.
Those are just a few but there are plenty more reasons but you get my point. The biggest thing that we all deal with later on in our lives is regret. When you have opportunities to do things that you want, do it then, not later because by then, you may not be able to do it.
If you have family and friends who are hindering you from achieving your goals, you have to take a step back and reevaluate how much value they provide to your life. If your significant other is preventing you from accomplishing your goals, you have to think are they providing value to your life and if they will support you in your future endeavors.
Take the time to think about your life, who is in your inner circle and they're pushing you to be the greatest person possible. If not, then it's time to meet people who will provide that value that you need in your life. Sometimes the closest people to you are toxic and don't want to see you succeed because they can't do what you're doing.
Be good everyone and go accomplish your goals!
Jamell Crouthers
 Aquarianmind