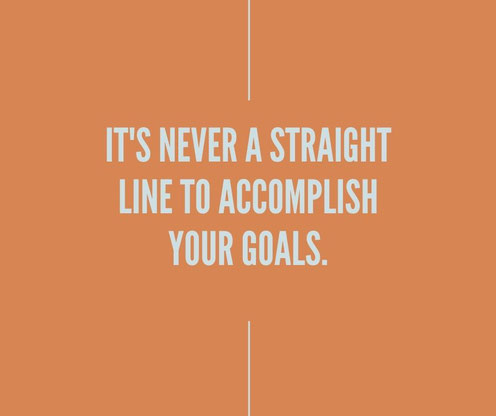 The title of this blog explains itself, it's never a straight line to accomplish your goals. When you start the process of doing something, you will automatically think that it's going to be smooth sailing and you'll get things done. Then....reality hits you square in your chest and you realize, it's going to be tougher than you thought.
While I do a lot of work and get a lot accomplished, it doesn't mean that I'm not filled with distractions on a daily basis. The lines always get squiggly somewhere along the way. Those squiggly lines will consist of various distractions in your life. Work, friends, family, kids (I don't have any yet), events, errands, chores, household duties, bills, and plenty of other things. The point is, there has to be a point in your mind where you say to yourself, "I have to get things done and I have to organize myself."
Organizing yourself means doing what has to be done in your day and figuring out the best time for you to get whatever you want to do completed and finished. Whether that consists of waking up a little early in the morning (which I'll never do because I'm not a morning person), or getting the work done at night when everyone is sleeping (which is what I do mostly).
Those squiggly lines will throw you off track, it will have you going in different directions, the whole works. With discipline and hard work comes success in anything that you do. You're not going to love the process all of the time (I dread doing certain things, believe me), but I know that it's going to benefit me in the long run.
If accomplishing your goals was always a straight line, there would be way more successful people in this world. Some people can handle all of those squiggly lines and get back on track to what needs to be done, their goals and their vision. Don't be the person that let's the squiggly lines sidetrack you and keep you from getting to the ultimate goal.
So keep grinding and loving the process in whatever you are doing. Time management, writing down what needs to be done and being organized is the name of the game. There's no secret to this, it's just doing it!
Be good and go accomplish your goals!
Jamell Crouthers
 Aquarianmind