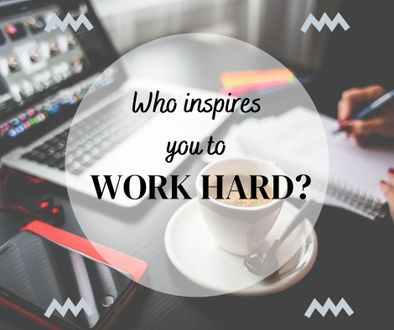 Sometimes we need someone to inspire us to keep us going and work harder. The question is who is that one person who inspires you to work hard? Is it your mentor, entrepreneur that you follow for inspiration, or maybe it's a close friend or family member. 
For me, my best friend is someone who inspires me to work hard. She has a lot of goals for herself so it forces me to step my game up. She's in school bettering herself for her career, she's launched her clothing line GOD Over All Things, she has goals of doing philanthropy work for people who have dealt with drug and alcohol abuse and writing books.
Having someone as bright and intelligent as her, it makes me realize that my goals are reachable and attainable. Our intellectual levels are there and we push each other to be great. We know how to make each other go harder and to take a break.
When you have someone in your life who has goals as big as you, it makes you work harder. Everyone needs someone who inspires and/or motivates them to be better everyday. Sometimes we need someone who will hold us accountable too, it all depends on who you are and your own self-awareness of yourself. Just take time to think about who inspires you to be great. 
Be good everyone and go accomplish your goals!
Jamell Crouthers
Aquarianmind