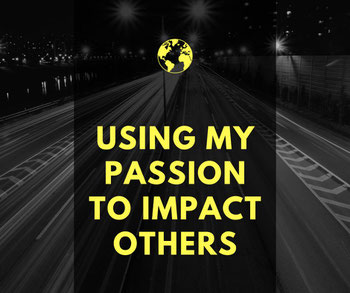 The day you figure out your love and passion in life, is the day you realize you should utilize it to impact others. It takes time to figure out your passion. Some of you will realize what it is early on in life. Some of you, it will take years before you figure it out. For me, it wasn't until I was 32 where I figured out what I was supposed to be doing with my life.
Now that I know what I'm meant to do, it's using my passion to impact others. The books I write are to bring more awareness and discussion to what's going on in the world. My blogs are to give you insight into my life as an author. My podcast is to share what's on my mind but to also inspire and motivate you to be your best no matter what along with sharing how I write my books. 
There's a lot that goes into the work that I do. I started my clothing line to express myself along with creating designs that aren't in the market. Everything I do has a purpose and reason behind it. I want to focus on impacting people I meet, I want to learn their life stories and be inspired to write stories that will change the landscape of the world. 
For me, it's not about awards, accolades and applause, it's about thought, discussion and change. We all have a role in making the world a better place to live in. With all of the craziness that's going on, it's necessary to share stories and inspire change. 
However long it takes, I will continue to create from books to blogs, podcasts, clothing lines and even more things in the future.
That's my blog for today, be good everyone and go accomplish your goals!
Jamell Crouthers
Aquarianmind