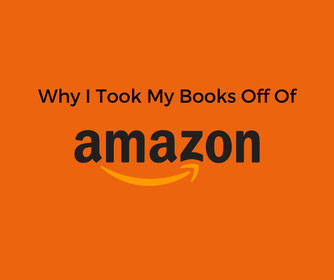 The biggest decision I've had to make on my writing journey as an author. It became an easy decision for me when I looked at the landscape of everything I've done in the past six years. Removing my books from Amazon was fulfilling for me. 
The next aspect of this is the quality of books they print out in paperbacks. Compared to the company I utilize now (The Bookpatch), the book quality speaks volumes and it looks and feels better with the new company I've switched to. It will be a great feeling and experience when readers buy a book from Bookpatch.
Next, Amazon will lower the price of your book without your knowledge. Imagine setting a price for your book, going onto the platform and seeing they lowered the price of your book without your permission. Also, readers are allowed to buy your eBook and return it withing 7 days for a refund, causing authors to lose profits for the month. Since that's been a major issue, now they're saying readers can return an eBook if they haven't read 10% of the book. The average eBook is $2-3 dollars, we're really okay with people getting refund for that low of an amount? That's not something that sat well with me and I felt it was time to make a change in platforms and my goals.
While Amazon is the biggest platform for authors, they surely don't promote and help self-published authors. Businesses are looking to make a profit and I get that so they'll promote the top authors, businessmen and women and the top publishing companies. The reality is, I'm not trying to compete with other authors, I'm trying to grow my own brand and the only way I'll achieve that is by carving my own path. 
With that said, that's where I stand with having my paperbacks on Amazon. My eBooks are available on all of the other book platforms such as Barnes and Noble, Apple, Kobo, Scribd and also on The Bookpatch. 
We must go our own paths and make tough business decisions and at the end of the day, this is about comfort and doing what's right for me. Be good everyone and go accomplish your goals!
Jamell Crouthers
Aquarianmind