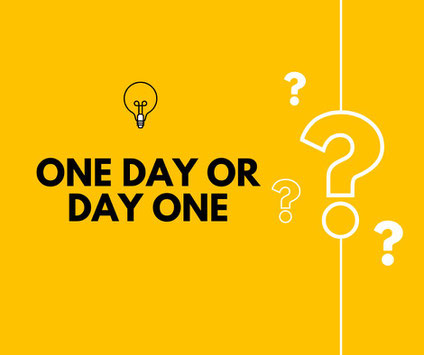 The title of this blog is something I see and hear a lot of entrepreneurs and business people talk about. Is it day one for you or are you starting one day? There's a big difference between the two and I'll start by saying, one will get you results and the other won't at all.
One day  you're saying, "I'll start soon" or "I'll get to it, I don't have time." The reality is you do have time, it's just you don't have the mental focus or drive to go after what you want. Whether it's because you're unsure of what's to come or you're afraid of what others will think, there are a myriad of reasons why you won't start but that's for you to figure out on your own. 
Day one is you're going after what your heart desires and that's to succeed in what you're passionate about. You're going after your life purpose whether that's to be at the top of Corporate America, owning a business of your own, being a writer, a copywriter, electrician, engineer, whatever it is that makes your blood flow and stimulates your brain, you are going after it until you achieve results. 
To be on a day one mindset, there has to be a drive and determination there. Once you have that, next comes dedication and discipline in all that you do. You have to want it every day, even when you're tired and know that the results are going to miraculously happen. It's all in your mindset, that's where it all begins and ends. 
When your mind is set on success, nothing can stop you and nothing should stop you. With that said, go be great, be good and go accomplish your goals!
Jamell Crouthers
Aquarianmind