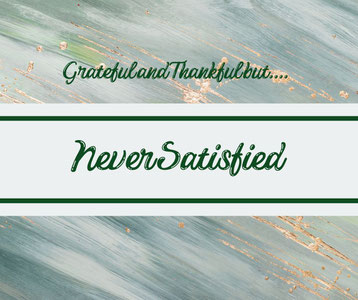 Sometimes I don't know if the title of this blog should be written. I don't know if never being satisfied is a gift or a curse. Maybe it's due to having to prove so much to myself and to GOD. It's not about anyone or anything else anymore. It used to be proving people wrong in the beginning of this but now, I don't focus on that. 
Maybe it's this innate drive within me to be great and be thanked for writing the content that I do. Nothing more, nothing less. That's all I need, to be happy with what I'm doing and knowing that I'm changing the world through my stories. Can I do more? For sure! Should I be doing more? I think so but for now I'll embrace the journey I'm currently on.
I'm not saying to get caught up in the mindset that I have. I know that me being an athlete contributes to why I'm never satisfied. I am competitive on the basketball court, in a pool hall and at a bowling alley. It's bad on the basketball court though, I've been playing the game since I was 8 years old so those who know, they know. 
There's a good chance that as I get older and I move toward other projects, I'll start to feel satisfied with all that I've written. There are some book series that have left an impact on me and my heart because of the amount of time I put into writing them. Especially the book series that don't directly affect me (A Woman's Worth). 
I know there's so much more to be done, so much more content to create. I think that's the reason at this moment and time that I'm never satisfied because I can do more. I can give more, contribute more, do more and discuss more. That's my continuous goal and hopefully one day, I'll be satisfied. Until then….the grind continues and the work needs to be shared with the world.
That's my blog for today, be good everyone and go accomplish your goals!
Jamell Crouthers
Aquarianmind