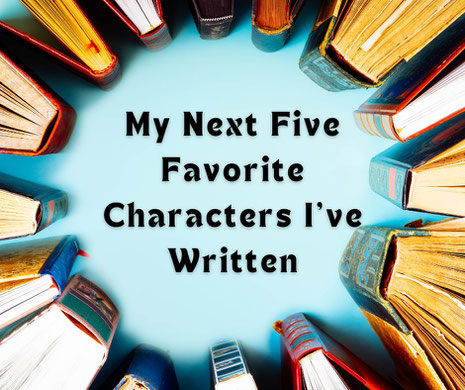 Last year, I wrote my five favorite characters I've written so far. This is part 2 to this as I'm sharing my next favorite characters that I've written on my journey. A lot of books have been published since my first blog post so it's time to share some new characters. 
Brenda (A Woman's Worth 1): Writing this book was very fulfilling for me. Mainly because I learned a lot about postpartum depression and I did plenty of reading, researching and watching content regarding it. There were a few episodes of the hit FOX TV show, "911" where postpartum depression was addressed and it had an effect on writing this book.
I never knew of postpartum depression and to spend time learning about it, what happens and how it impacts women, men and families, that was something I enjoyed doing. There aren't many stories written the way I did regarding postpartum depression so I'm proud to say I've written an important story that will bring more discussion in the world. 
Lisa (A Woman's Worth 2): Maternity leave is one of the most important things a woman should have when she has a child. The United States is one of the worst countries in regards to this and I felt that a story about maternity leave was needed. 
Lisa was a huge component to the 'Woman's Worth' series and we don't talk about how much women are under pressure to get through pregnancy, have a child and only get a limited amount of time to spend with their child before they have to go back to work. Lisa was one of my favorite characters to write because I got to embrace a journey of writing about women's social issues.
Nancy (A Woman's Worth 6): The pressure for women to get married and have children has always been a discussion for decades. Times have changed and women are going after their goals in life, traveling and living a life of fulfillment without having children and getting married.
Nancy was a character that I see so many women can relate to. It's why I wrote this story that focuses on women doing what makes them happy in life. There's so many pressures women face everyday and to be able to write a story like this, it was different but also very important. 
I hope that Nancy's story inspires women to live their truth, do what makes them happy and to not cave into societal standards and pressures. Life is short, it moves quick and Nancy is someone who took the bull by the horns and decided what was best for her, not her family.
Patrick (A Man's Plight 6): Patrick is a young man that relates to me and experiences I've been through in my life. I needed to write a story like his to empower men to get therapy and help when they need it. Mental health is important in life and we can't grow and be our greatest version of ourselves without feeling good about ourselves. 
This book was joyful to write because I incorporated what I learned in therapy into the story. This is why Patrick was one of my favorite characters to write in the past year. Writing this story rejuvenated my journey in my life and I'm so proud to have written a story with Patrick and his healing. 
LJ (Alphabet City 1): Life in a bad neighborhood has it's share of ups and downs. LJ was someone that I needed to write about. Life as a young man who has been through the trenches. A lot of loss, sadness, sorrow and questioning where his journey is going.
It's what a lot of young kids go through living in a bad part of town. They're fighting to live and hoping they make it home everyday. LJ is someone that I loved writing to start the beginning of the 'Alphabet City' series. LJ is someone I hope young kids are inspired by, no matter what happens, the obstacles faced, you get through it.
There's a resilience aspect to LJ's story, through the pain, the sorrow, getting out of his circumstances because someone believed in him. This is a character I loved to write because I want to give readers and the world hope. Through trials and tribulations, pain and sorrow, dark tunnels, comes light at the end of the tunnel and a journey that will be nothing short of amazing. That is why LJ is one of my favorite characters to have written in my writing journey. 
These are my next five favorite characters that I've written. I'm thankful for this writing journey, thankful for all of the reads on my blogs, the listens on my podcast, it means so much! Please don't hesitate to look into the books and characters I've written.
That's my blog, be good everyone, and go accomplish your goals.
Jamell Crouthers
Aquarianmind