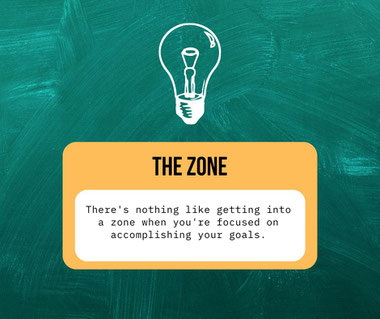 The title of this blog explains itself, get yourself into a zone. That's what you have to do to get to the next phase of your journey. It's not easy, but it has to be done a lot of times. It means shutting yourself off from the world for a while.
That means no social media, no family and friends, no hangin' out, no goofing around, no binge watching television shows and documentaries, you have to cut off anything you know is a distraction. There are a lot of distractions around us daily but you're going to be the one who determines how far you go.
Whatever you have to do to get yourself into that zone, do it. For me, it's listening to music and immersing myself in the work that has to be done. I take small breaks to eat, shower, use the bathroom but when I'm done, it's back to work.
There has to be a laser focus if you want to achieve greatness. That zone you get to, no one can stop you, distract you and you work diligently until you complete all of your tasks. Trust me, you'll thank me later when you make that decision to get into a zone to get your work done. 
None of this is easy, it's a journey that requires mental focus, drive and hard work. 
That's the end of A-Z of motivational blogs!
Be good everyone and go accomplish your goals!
Jamell Crouthers
Aquarianmind