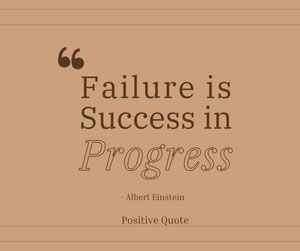 The one thing I can say about my journey is I've failed…a lot. What I've learned is to not take it personally but also to know that I'm doing something right. It means I'm getting closer to seeing results. There's a sense of excitement knowing that all of my hard work will pay off. Even though there are some days the self-doubt kicks in.
Do you ever feel like when you fail, you're thinking or wondering what's next? You're trying to figure out if these failures are to hold you back or to propel you to new heights. I would say it's the latter and that whenever you make a bad decision or a bad investment, that you'll make better decisions and solid investments into what your passion is. 
With each failure, I know not to utilize the platform I used to achieve results. Whether that's certain ads, websites, certain people, etc. I'm learning what works, what doesn't, things I can do better, ways to adjust to marketing myself and my brand, and being consistent. Nothing comes without consistency daily and it's something I came to understand early on in the process of my journey.
Remember that everyone's journey is different. What worked for someone else may not work for you. This is why you have to carve your own path, you have to do things your way and how you see fit. Everyone's success comes at different times. Someone may achieve success early on but can't maintain it and some may achieve greatness later on and have the knowledge and ability to maintain consistency and build the audience they want. 
Failures lead to results so keep going and remember to be good and go accomplish your goals!
Jamell Crouthers
Aquarianmind