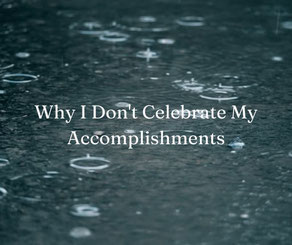 I'm going to talk about why I don't celebrate my accomplishments because a lot of my family and friends always ask me why I don't. For starters, life for me as a writer, author, blogger and podcaster, it's a lot of work all of the time and regularly. So for me, I don't really take too much time to celebrate any of my accomplishments whether it's a great content I wrote, a solid blog I've posted on here, or a book that I've finished and published.
In my own little way, celebrating makes you complacent, it can make you lazy and allows your head to get bigger than what it is. I try to stay as humble as possible and keep grinding through everything I have to do. I spend most of my days writing down things I need to do and goals I want to accomplish for the week, that's what keeps me going. I'm basically in competition with myself and how much I can get done or how much I can write.
My writing book that I keep with me all of the time, I know that an idea can come up, and I can write down something important that I have to do. When you find your love and passion in life, you find yourself not celebrating until you reach the top of the mountain. Right now, I'm climbing this mountain and it's a journey to get to the top. And even when I get to the stop, I won't slow down, I'll keep going to make sure I stay on top of that mountain I climbed.
The mountain climb is arduous, tiring, frustrating, grinding, but it makes you tougher, mentally stronger, a fighter. That's how my mind is wired and maybe that's what keeps me from celebrating. It's the mountain climb and keeping my head up and not looking down at everyone else. 
I tend to use analogies in my writing and how I think. It allows you to visualize my words a little more. For me, it's all about discipline, mental focus and knowing there's an end goal. 
Remember the journey is supposed to be a marathon, not a sprint.
Be good everyone and go accomplish your goals.
Jamell Crouthers
Aquarianmind