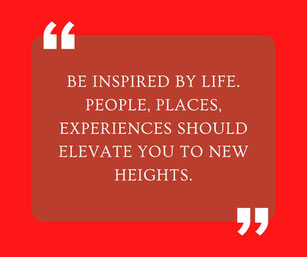 I want everyone to succeed in all that they do. No matter what it is, I see everyone having opportunities to be great. I want everyone to be inspired by life and what's around them. To take advantage of all the opportunities that come their way. 
With all of the things that's going on around us, it's hard for us to be positive at times. There's war, sickness, divide among social issues and a myriad of other things. But there's also a lot to be thankful for and to be inspired by. You get to live your truth, your life and your purpose. I want everyone to find their purpose in life and fulfill it to the fullest.
Life has a lot to offer and we have plenty to give. We're all going through something right now. No matter what that is, just know you're going to get through it. If you're doubting yourself, don't do that. If you are down and out, you'll heal and get better in due time.
Let those around you inspire you to be great. If you don't have anyone who inspires you in your inner circle, try to find someone who does. It can be an entrepreneur, a businesswoman or man, someone who is in the field you want to be in, there's someone for everyone in the inspiration and motivation department. 
Everyday, find something that motivates and drives you. What are your goals? What pushes you to be your best? Whatever or whoever that is, chase that. Let life take you on a journey where you're fulfilled, happy and continually striving for something bigger than you.
Keep pushing and doing what you love, it all falls into place. Be good everyone and go accomplish your goals!
Jamell Crouthers
Aquarianmind