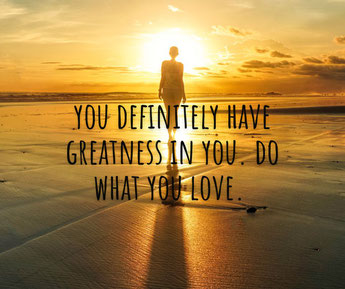 Whether you realize it or not, you have greatness in you. There's something that gets you going, something that inspires and motivates you. That's what you need to chase and go after. That's what elevates you to greatness. That's where your juices get flowing and you just go for it no matter what. 
Sometimes we don't even realize that we are capable of so many things. It isn't until we learn about ourselves and who we are before we move in the direction we're supposed to go. Whether you know it or not, you have plenty of talents and gifts, you just have to figure out what those things are.
Don't doubt yourself, know that you are great at something. Be confident in knowing that you can do plenty of things, it's just a matter of building yourself up so you can go do it. Just remember, you have to work at it, improve, be consistent and definitely be dedicated. 
A lot of people in life aren't good at something and they do it for the wrong reasons and still make a living off of it. Why doubt yourself when you are legitimately great at something someone else really doesn't have a passion for? Fulfill your purpose in life, know that the more you do what you love, the better your results and rewards will be. 
Always know that your mind is where it starts so get that right and you're on your way! Be good everyone and go accomplish your goals!
Jamell Crouthers
Aquarianmind