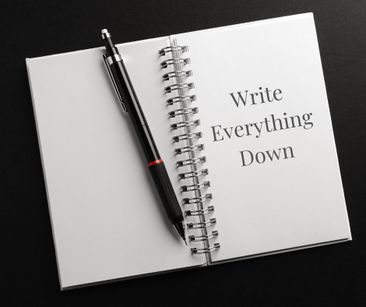 Organization is the name of the game for me. While we all have note apps along with 'to do' lists at our disposal in our app stores, somehow, I'm still old school and love to write things down. From my 'to do' lists, to planning out my books, everything is written down on paper. I put more 'to do' lists in my phone app since there's so much for me to do and I don't want to forget. 
My daily tasks are mostly weekly goals and I try to write them down in the middle of the week. At the end of the week, I work toward accomplishing everything from recording podcasts to writing new content such as this blog or writing a few chapters in a new book.
Weekends are dedicated to accomplishing the bigger goals (recording mostly), that's when I can allot time to fully immerse myself in this content. Podcasts are recorded ahead of time and audio books take a few days to record a complete book (average two to three weekends). 
I have so many 'to do' lists written down in my small books and I check them off when I complete them. There's something about seeing something written down on paper and checking it off that I completed it. The best advice I can give you is to do what works for you. With technology, it allows us to organize a little more, I'll admit that (I have a to-do list as a widget in my phone). 
I'll always write out my brainstorming sessions for my books. I love to have an outline for how and what I want to write. I hope you enjoyed reading this blog and getting inside of my mind a little more. Before you know it, you all will know a lot about me with my writing journey. With that said, be good everyone and go accomplish your goals!
Jamell Crouthers
Aquarianmind