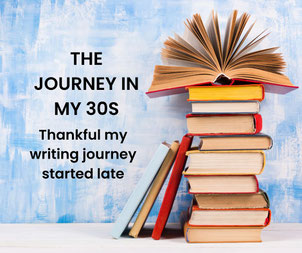 Sometimes when I'm in self-reflection, I think to myself, "damn I wish my writing journey started sooner." When I come back to reality, I know that it was better that my journey starting in my 30s was for the best. I'm thankful that I'm on the journey now because I definitely have more mentally focused.
In my 20s, I didn't have the drive and determination to be great, I was still learning about myself, who I am and my life journey. I was busy trying to make it in sports not realizing that writing was supposed to be my staple and what I'm meant to do with my life. 
When I was in my early 30s, that's when I dug deep and worked on figuring out my purpose in life. When I started writing my books, I had the right mindset, I had a better grasp and understanding of the world which allowed me to create and write all of the books I have to date. That's when I figured out all of my talents and gifts that I needed to share with the world. 
To be honest, there's just no way I would've been able to have a writing platform, podcast, website, blogs and a clothing line in my 20s. I wasn't in the right state of mind to do all of it. My mind wasn't ready for all that I'm doing currently. There's always a silver lining to everything and I count my blessings, I'm doing all of this now. 
The world has become full of content and stories that I can write from various perspectives. Down the road, I surely will be able to come back to this blog and say, I did it and I created my own path at the right time and the right age.
Be good everyone and go accomplish your goals!
Jamell Crouthers
Aquarianmind