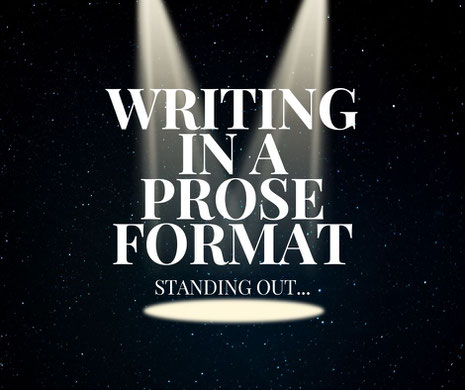 When I decided to start writing books, I knew that I wanted to write them in a prose format. I've always been different in how I do things in my life. It's something people have told me a lot, that I carve my own path and I'm proud of myself for being different.
My writing in a prose format still tells the story, brings out characters but causes people to get mad it's not structured a certain way. The traditional ways of reading books have changed significantly over the past decade. Writers and authors are writing their books in ways that make them comfortable.
With there being so many rules to writing, there's no sense of originality, creativity and being comfortable in creating projects that are different from others. Standing out was important to me, I wanted to be someone who saw my books, looked inside and still decided to buy one book, that's when I felt good. 
The beauty of a writing journey is to enjoy it, be fulfilled and know that what you're doing and where you're going, it's going to be a different road and the road less traveled. I've been publishing books for years and while I haven't taken off yet, I know that I will get to where I'm supposed to be in life. 
My goal with my stories is to be different, unique, tell powerful, important stories and start conversations on what's going on in the world. We can no longer turn a blind eye to all of the madness going on around us. It's about awareness, being more engaging and caring about things everyday, not when we feel like it. 
Writing in a prose format doesn't change the story and how it's told and I learned that within the first year of my journey. I'm having fun doing this and I found my niche and passion. 
That's my blog for today, thanks for reading, be good everyone, and go accomplish your goals!
Jamell Crouthers
Aquarianmind