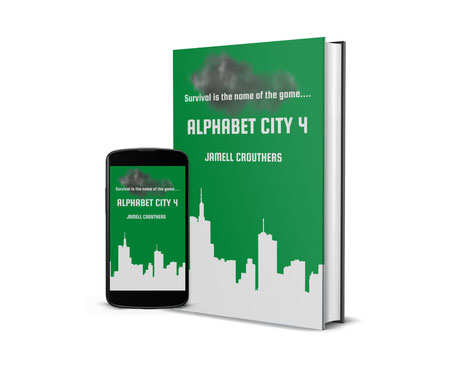 Alphabet City 4 takes us through the life of Cheryl who's a single mother raising two teenage kids. Jermaine and Shameka are Cheryl's rock and what keeps the family together. The thing is Cheryl's life is a constant grind of struggle financially, emotionally and spiritually.
There are so many stories of life but we never get the single mother raising kids in a tough neighborhood. I wanted to shine light on this and Cheryl's life of raising two young adolescents wasn't by choice as her husband was killed.
It's not easy writing stories like this, it was a lot of breaks for me. I think of how many single mothers in America raise children alone and how many decisions they have to make on a daily basis. Working long hours, making sure your kids are safe, feeding them and making sure their well-being is good at all times.
Cheryl's journey through life isn't easy as she's grown up in 'Alphabet City' and has seen so much in her life. Gang life, death, violence, drugs, you name it, she's seen it. I write about struggle in a lot of my stories but I always try to keep things in perspective. I try to write about hope, change, and progression. 
Life is a journey of ups and downs and I tried to be as real, raw and passionate as possible with this story. Giving you the visualization of Cheryl's journey, what's going on in her mind and how she gets through her days. With pain and struggle comes resilience, fight and perspective on life. 
It's writing about real life situations and circumstances that happen on a daily basis in bad neighborhoods across America. It's a sad glimpse into gang life, how one block separates on gang territory from another, how in the blink of an eye something horrible can happen and you don't even see it coming. It's to make you see and realize that everyone has a story, everyone has struggles they go through and to appreciate all that you have. 
Sometimes we think that our lives are worse than everyone else's when in reality, it's nowhere near that. Cheryl has a lot she goes through in this story and she's on an uphill climb daily. It's an emotional ride through her life as a woman, a single mother and someone who wants better for herself and her kids. 
This book is an important one to read to get a full understanding and grasp of what life is like raising children in a bad neighborhood. That's my blog for today, thank you all for reading! Alphabet City 4 is available on B&N, Apple, Kobo, Scribd and other bookstores. Paperbacks are available on The Bookpatch. 
Be good everyone and go accomplish your goals! 
Jamell Crouthers
Aquarianmind