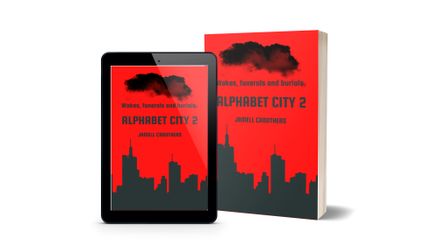 When writing, "Alphabet City 2" I wanted to give the feel of what death is like in Alphabet City. I wrote about Vicky who is a funeral home owner and director. She talks about life in Alphabet City and seeing death at her front door for the past few years.
Everyone sees and knows that in bad neighborhoods full of drugs, violence and gangs comes a lot of people dying. The only difference is this story is powerful. Vicky tells of losing those closest to her, people she knows in the community that come through the doors of her funeral home. 
I write it from an emotional and mental toll it takes on her to run the only funeral home in Alphabet City. How summers are full of deaths and how she can't get a break. There's so much that it takes to run a funeral home and she is someone who is mentally tired and burned out. 
The thing is with Vicky, you're getting every aspect of Alphabet City. People who are burying their loved ones at the hands of a gang member, drug overdose or just being at the wrong place at the wrong time. It's a sad reality and while reading Part 2 of the series, my goal is to make you feel and emote what Vicky sees, goes through and deals with living in this environment. 
Wakes, funerals and burials are a common occurrence in Alphabet City but Vicky is now understanding there's a price she pays for being an empath and helping others in their time of need. What does the future hold for someone who has been helping her community for over a decade? You'll have to read the book to find out!
That's my blog, Alphabet City 2 is available on B&N, Apple, Kobo, Scribd and other bookstores. Paperbacks are available on the Bookpatch!
Be good everyone and go accomplish your goals!
Jamell Crouthers
Aquarianmind