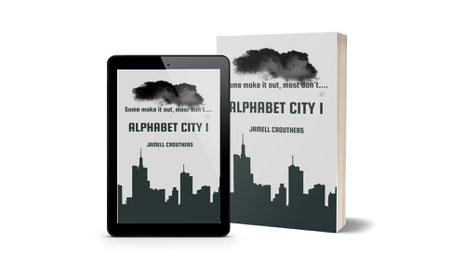 The start of the Alphabet City series, I wanted to bring it from the get go. Upon meeting Larry Jamal (LJ), he's at a prestigious HBCU (Historically Black College and University) where he tells the story of growing up in Alphabet City. He breaks down the neighborhood, gang life and what it's like growing up there.
He speaks on the aura and energy of living there, how death is around the corner and I wanted to make sure everyone knew that. Sometimes we hear of what it's like to grow up in a tough neighborhood but to feel it and visualize it from LJ's perspective, it brings more energy to it.
LJ is a character I wanted to make sure brought the pain and didn't sugarcoat a thing. His life is nothing short of sad, tragic and it takes some horrific experiences for someone to save him. His life is nothing short of resilient and even though he talks of his mental struggles, there's hope for him that he'll make it.
For a kid like LJ to make it, he's one of the lucky ones to have left Alphabet City and not return for years. He questions if he'll go back but you can never say never, right? I'll admit, I've gone back to some old neck of the woods myself so it's nothing to be ashamed of. All he wants is for his life to continually improve.
A character like LJ to start a 12 book series was important for me. It gives you a feel for what the series will consist of. It's about struggle but in the end there's hope that things change for the better but there's always the question of how?
That's my blog, Alphabet City 1 is available on B&N, Apple, Kobo, Scribd and other bookstores. Paperbacks are available on The Bookpatch!
Be good everyone and go accomplish your goals!
Jamell Crouthers
Aquarianmind