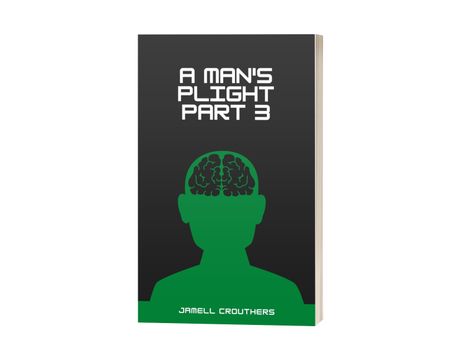 'A Man's Plight 3' was a book where I wrote about something that doesn't get talked about as much as it should, paternity leave. While there are great articles written about it, the stories about what men face when it comes to this isn't written in books. I felt it was time to write a story about this after doing research on the topic and how it affects families in today's world.
Bernard is the main character and I needed to not only delve into paternity leave but what men are going through while preparing for their newborn child to come into the world. There's so much that goes into a new child coming into the world so I was sure to tackle as much of this as possible.
Due to men being ostracized and criticized for taking paternity leave, I needed to share that part of what men deal with. The culture of companies and Corporate America and how men don't take time off after their children are born. This is a worldwide situation, not just in Western culture and somehow we've lost the concept of family.
I had to write it to where Bernard deals with his career being impacted because he's taking time off to be with his wife and newborn child. The criticisms he'd get, the uncomfortable feelings at work, preparing for his daughter to come into the world, the finances, him being scared about fatherhood, it's all of these things that he faces. 
The importance of paternity leave and the impact it has on Corporate America is immense. The problem is, no one wants to really address it, no one wants to look at the landscape of how companies handle it and give men the leeway to utilize it. Men are seen as weak and not dedicated to their companies if they take time off, that's the narrative in today's world. 
There's a loss of family values and the focus and fixation on capitalism. It's growing the company more than watching your child(ren) grow. It's the realities of what this world is currently and it's necessary to go down the road of telling these stories. The written articles about this are great, now it's time to tell the stories of what men face raising a family.
It's not an easy subject to talk about but sadly, a lot of companies only offer maternity leave and not paternity leave. I wrote this story with the intention to open eyes to the realities of this. I thought about how many men want to take time off but can't. I thought about the men whose careers changed because of it. I thought of the men who don't really have a voice when it comes to this and how to go about changing the narrative of this.
While I enjoyed writing this book, I just hope that this short story (I didn't want to overwrite the book) helps everyone to understand what's at stake when it comes to raising a family. It shouldn't fall on the woman to take care of every single thing, a man has to do his part in the home too. There has to be a change in the men being breadwinners and women taking care of home. A happy medium among couples is what's needed and balance is surely necessary. 
That's my blog, thank you guys for reading. A Man's Plight 3 is available on B&N, Apple, Kobo, Scribd and other bookstores. Paperbacks are available on The Bookpatch! Be good everyone and go accomplish your goals!
Jamell Crouthers
Aquarianmind