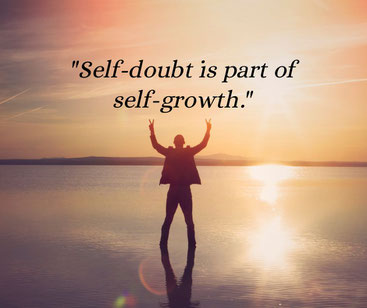 We all doubt ourselves, it's part of our life journey. We think we can't do something or we can't achieve something great. Trust we've all been down this road but I'm here to tell you, it's perfectly fine. We all have a fear of failure but that's part of self-growth.
Self-doubt is part of self-growth, it's what allows us to become better in our way of thinking. The one thing we can't do is stay in the same mindset in whatever we do in life. Our self-growth is a process and staying in a rut doesn't help us right now and in the long run. 
Sometimes we forget that we can grow with our setbacks. Sometimes we allow our setbacks to define us and that hinders us from doing great things in our lives. Just think when you set a goal, you should think about what it will take to accomplish that goal and what hurdles you think will keep you from achieving that goal. Whether it's distractions, personal things, whatever it is, think about that too. 
Please don't doubt yourself and if you do I'm here to tell you, you can do it. You can achieve whatever you want if it is within reason. Allow your doubt to elevate you and grow into someone great. You have it within you so please don't think that you don't. Now go accomplish your goals and be great!
Be good everyone and go accomplish your goals!
Jamell Crouthers 
Aquarianmind