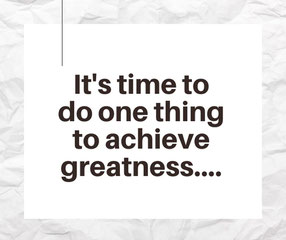 It's time to eliminate toxic people from your life. It sounds simple but it's harder than we think. A lot of the toxic people in your life are family members, friends, best friends, coworkers and others. I get it. I understand that those closest to you are hard to let go but you have to and I'll share with you why.
For starters, the people around you will determine how far you go in your life. People who bring you down, stress you, doubt you, you'll be spending your time worrying about them and not on your goals. You're going to have people who have nothing going for themselves in their lives and they'll do anything to bring other people down with them.
Negative energy drains the mind mentally, physically and emotionally. You'll eventually have to let people go, it will be beneficial for you in the long run. You have to make some tough decisions and they need to happen now. Don't wait, don't hesitate, just do it.
If it's the one thing you do, it's this. You'll thank yourself later because imagine a year from now and you're not where you need to be. You've done the work, the effort has been there but you're dealing with the stresses of life. Then you'll be forced to reevaluate your life and you'll be far behind in where you should be. It will be due to the people you let stick around and watch your journey. 
What I'll say is, distance yourself from those who don't fully support you. Keep quiet with a lot of your moves. Be your biggest fan because the majority of people will NEVER applaud a thing you do. 
Be good everyone and go accomplish your goals!
Jamell Crouthers
Aquarianmind