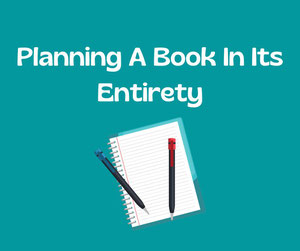 The process of planning a book in its entirety takes time. If you have a goal of writing a book or want to make a career out of writing, I'll share with you plenty of things about writing. To get a quality book completed, I won't give an average time to complete it. I say this because it depends on your content, if you're self-publishing and a myriad of other things. 
I can give you tidbits on self-publishing and I hope this blog helps you. With self-publishing, you control everything and if that's your goal, then you're off to a great start. You're not going to be worrying about anyone's opinions or insight, you get to craft your book however you see fit.
Taking your time to make sure everything comes out the way you want it, you will thank yourself later, that's a definite. Brainstorm your book as long as it takes, don't feel rushed to complete this process. Think of how many characters you want, how many potential chapters there will be, outline your chapters (it's easier to write your book when you do this), and develop a great story that keeps the reader drawn in.
Proofreading and editing your book is one of the most challenging parts and some can do it themselves. There's also the option to pay a professional proofreader and editor to read your book depending on your budget (Fiverr). I proofread everything myself and it's the most grueling part for me. I don't enjoy it much but in my mind, it's my content and I need to re-read it so it sounds good. 
Creating a book cover, a lot of pre-made ones are on Canva where you can change the font, color and structure of it. If you want to get a book cover made, there's Fiverr. There are so many great creators of book covers at an affordable price. When you're told to spend hundreds of dollars on a book cover, you really don't need to. I've created some on my own and had some book covers made at affordable prices and they came out amazing. 
Formatting your book, plan out how you're going to do it. There are YouTube videos on how to do it yourself. I utilize a website named streetlib.com and it allows me to plug my chapters, setup for it to be in ePub, mobi and paperback versions. You can also pay someone on Fiverr to do it for you. It's an average of $50-100 for it to be done depending on how long your book is. 
You will always be in control of where you want to publish your books. To publish everything in one shot, it's best to utilize Draft2digital. Don't utilize Amazon on their platform, create your own Amazon account to keep track of everything on there. You get to set your price for eBooks and paperbacks on these sites. For paperbacks I use The Bookpatch, they create some quality paperbacks (better than Amazon in my opinion) and it's a U.S. based company. 
Marketing, I would say you can utilize social media a little but most people aren't on social media looking for authors and a book to read. Utilizing press releases, having your own website that focuses on your content will go a long way. The biggest thing that's helped me is putting my books in bookstores. You can find your local bookstore where you live and set up a consignment with them and get noticed. You can also do a book event at your local bookstore and that will garner interest into what you write about.  
Recording audiobooks, you can surely do it but if you don't feel comfortable doing it, you can utilize Draft2digital's services to help you get your book recorded or even use Author Republic. Recording them yourself takes a lot of time so you will have to be patient with yourself while going through the process. When you're done recording, you can sell them on a website that connects to your own personal website. I use Payhip, there are plenty of others like Gumroad, it's all in what you're comfortable with. 
Nothing will go smoothly all of the time. After you publish a few books, you'll have a routine down and it'll become easier with the process. What I will say is enjoy the journey and be proud of the work you're doing. It takes a lot to write a book itself and the fact that you're doing something you love, it's a beautiful thing. 
I hope this blog has helped you and if you have any questions, don't hesitate to reach out to me on the contact form! That's my blog for today, be good everyone and go accomplish your goals!
Jamell Crouthers
Aquarianmind