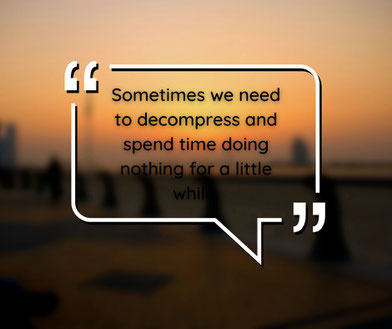 I have moments where I do nothing. Absolutely nothing. At all. It's just me relaxing, which is hard to do. Being still and in the moment is hard for me at times. Some people that are close to me are surprised that I'm doing nothing if they text or call me. They know I'm always working or doing something. 
Sometimes I need time to do nothing and get my mind right. It's necessary for me and it allows me to observe the world. It's important that I recalibrate my mind so I'm fresh for when I get back to working on my goals. It's also just good for me for my mental health and my own well-being (which I don't do enough of).
Doing nothing allows me to relax my body and get the rest I need. I tend to overwork myself and always feel like I need to be doing something. Slowing down is something I don't do enough. I have to tell myself to stop, slow down, don't do anything or else I never will. 
I'm my own worst enemy and I know that my time of doing nothing helps me. I would say that within the past year or so, I don't work as much as I do because I've done so much already. With the amount of content I have, I can honestly take a break for a few months and be fine. It's just that I have this drive within me to keep doing more and keep accomplishing more. 
My sense of balance has shifted over the years and I'm getting better at it. I'm enjoying things more outside of the work I'm doing with blogs, writing books, podcasts and everything else I'm involved in. Just know that I'm doing better these days and as time goes on, I'll figure out my balance in my life. Remember, I'm a work in progress daily and I've been on this journey for six years. 
Remember to slow down, be in the moment and enjoy life! Be good everyone and go accomplish your goals!
Jamell Crouthers
Aquarianmind