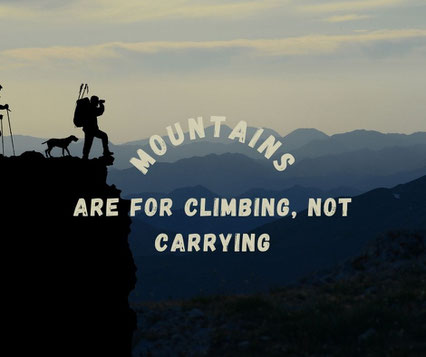 What we do not understand in our lives is we take on too much. We tend to carry the mountain on our backs and not for carrying. We take on the weight of the world when we don't need to at all. We take on too much pressure to get things done and we need to reevaluate and slow down. 
The goal is to climb the mountain to get to the top, not to carry it everywhere we go. I'm quite sure you have never heard the message to climb the mountain, not carry it. We tend to think that carrying the mountain makes us stronger, it really doesn't. It only makes us more physically, mentally and emotionally drained. It only slows down our progress and keeps us from achieving greatness. 
Imagine if we decided to take on our journey from a longevity standpoint and not a sprint or race standpoint. Just think of how much we would accomplish and achieve if you changed your mind and focus. The mountain climb should be the journey, not carrying it on a back that will eventually break down. 
You have to love the process, the grind and knowing that obstacles and hurdles will keep you from getting to the top. With progress, there will come setbacks and it's all in how you respond to situations. Dig deep, look at where you are, know that you're going to get to where you want to be, but do it the smart way.
Take time to understand where you are in your journey. Don't feel you need to carry boulders on your back to prove to others you're strong enough to withstand everything. You become stronger when you become more self-aware of who you are, where you are going, where you want to be and who you want to become. Develop a mindset of abundance in mind, body, spirit and soul.
That's my blog for today, be good everyone and go accomplish your goals!
Jamell Crouthers
Aquarianmind