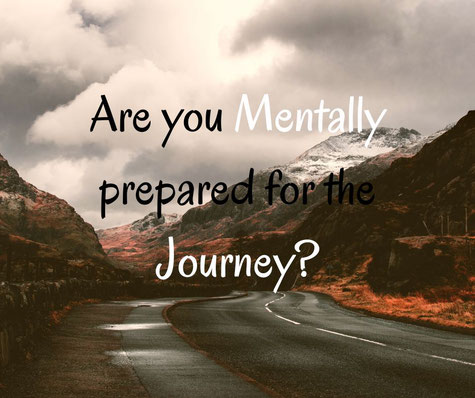 In life, we all have that moment where we decide we are going on a journey to greatness. The question becomes, are you mentally prepared for the journey? Sometimes we aren't and don't even realize it. We have that moment where we have to get our minds together to move forward. It happens to the best of us, we're not always in the right mindset when we decide to chase something bigger than us. 
You have to think to yourself, is your mind right? If it isn't, what do you have to do to get it there? We can't necessarily chase something and we're not mentally focused or in the right mindset. Our minds need to be clear and on a straight path to start toward achieving something great.
We all have things going on in our lives when we are working on something we want badly. Our minds are the most powerful thing within us and if that's not right, we can't move forward. The journey is going to be long, arduous at times and surely challenging. The thing is you have to be ready for all of the ups and downs that come with it.
None of it is going to be easy and you have to know that it'll be worth it in the end. There will surely be mental challenges of how strong-willed you are and how bad you want to achieve the success you seek. There will be good and bad days but on those bad ones, you have to get up and keep going. On those tough days when you don't want to do anything or you're thinking about giving up, you have to will yourself to the finish line. Remember it's a marathon, not a race. 
That's my blog for today, hope you enjoyed reading this and are mentally preparing for greatness!
Be good everyone, and go accomplish your goals!
Jamell Crouthers
Aquarianmind