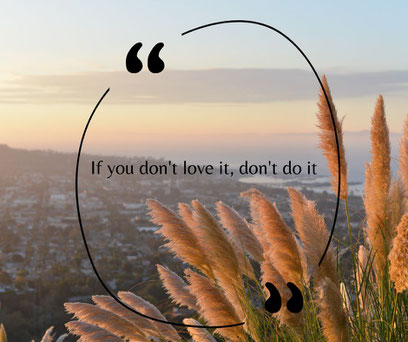 In today's world, we get too caught up in doing things to get notoriety, fame and money and not being passionate about it. We tend to follow trends and what's hot to make the quickest dollar. Society can sometimes brainwash us into thinking that money is the name of the game and that's nowhere near the case.
We are all meant to be doing something we love in life no matter what it is. Don't get me wrong, we are all multi-talented in many things so we should all delve into various things to figure out what we are great at. The biggest advice I can give is if you don't love it, don't do it. 
The reason why I say this and always will is let's say you do something for money. You're doing great, living a great life and then all of a sudden, you're not as financially successful anymore. The market changes and the money isn't there anymore, now you're back to square one.
Be willing to do something you love for free and for the passion of it. Fall in love with your calling and what good you can bring to the world. It's important we live a life of purpose and not let our talents and gifts go to waste. 
Be good everyone and go accomplish your goals!
Jamell Crouthers
Aquarianmind