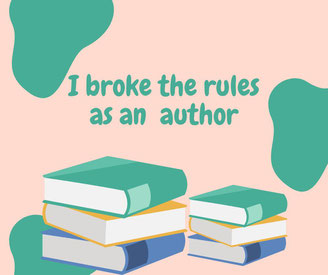 The title of this blog will surely tell you my journey. I'll share with you a few ways I broke the rules as an author. To start, my books aren't written in a traditional format. I decided to combine a prose format and social issues and from there my author began.
Next, I made a huge decision to take my books off of Amazon (blog here). Amazon is one of the biggest platforms with books and I took them all off. I'm not only an author, I'm a business and a brand and for me, it's changing the landscape of all that I'm doing. 
Creating a website and posting my books and blogs was huge. I changed my website three times before I found one that fit what my goals were and what I was trying to accomplish. I spent a year revamping my website so I can build something where everyone gets an experience. 
Another major thing I did was create a podcast where I share my life as a writer and author. My podcast delves deeper into my process of writing my books, what I was thinking, the music I was listening to and so many other things. I talk about what's on my mind, I post motivational podcasts and the books I've written and published. 
My journey has surely been different than a lot of authors. There's a lot that I did differently and I feel that it will pay off from a longevity standpoint. I'm growing my platform and brand in ways a lot of writers don't think of. A lot of this is longevity and legacy and that's all I'm focused on. 
The biggest thing I will tell people, do things your way. Go your own path and go down the road less traveled, you'll be surprised where you end up. That's my blog for today, be good everyone and go accomplish your goals!
Jamell Crouthers 
Aquarianmind