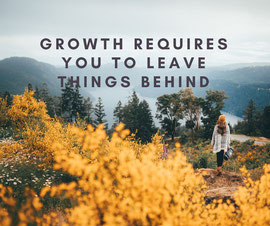 You can't take everyone and everything with you on your path to success. It's just not possible, I'm sorry to tell you that. The reality is you have to focus on moving forward, progress in what you're doing and experiencing consistent growth. The only way you're able to achieve these goals is leaving people behind. Leaving bad habits behind, knowing that where you're going is better than where you are. 
Growth requires you to do uncomfortable things. Moving beyond the boundaries you're limiting yourself to. Leaving behind the uncertainties, bad thinking, negativity, people who aren't on your wavelength and anything else that hinders your progress. 
It's going to take a lot to grow and it's not going to be easy. When you start to move forward in all that you're doing, the one thing you can't do is look backwards. Looking backwards has nothing to do with your growth and where you're going. It's why this blog is about leaving things behind. 
Look ahead and keep moving forward. Do whatever it takes to continually strive for excellence. Be good everyone and go accomplish your goals!
Jamell Crouthers
Aquarianmind