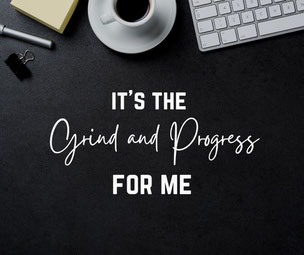 Everyday I remind myself that there is no overnight success. Everyday I tell myself, as long as I do something productive, I will get to where I want to be. It's all about the grind and progress for me, nothing more, nothing less.
There's an understanding in my mind that it takes years to grow something big. Along with that, when you carve your own path and you do things your way, it takes longer than expected. As an author, I write things a lot of people don't and I don't push my content the way everyone else does. It's just a different grind and journey for me. 
When it comes to progress, I know with every book I complete, it's an accomplishment. Everytime I finish recording an audio book, it's another accomplishment. Whenever I write a few blogs or record a few podcasts, I've completed and accomplished even more. 
It's easy to get caught up in what everyone else is doing or look at the success of everyone else but the one thing I'm concerned with is what I'm doing. I'm mentally focused, I'm driven and I'm only in competition with myself. 
For me it's how can I get better, how can I continually improve with everything that I'm doing. How do I keep the drive, motivation and inspiration in me to continually go whenever things don't go my way? The harder the grind, the better the results when I get to the end. Or does it never end for me? Who knows but I will always focus on what's best for me and my brand. 
That's my blog, hopefully you guys get more of an understanding of how I think and where my journey is going. Be good everyone and go accomplish your goals!
Jamell Crouthers
Aquarianmind