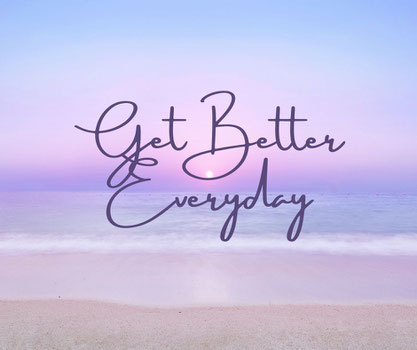 Guys, I want you all to get focused. I want you all to get better everyday. I want you guys to get better in your mental focus, your journey, your passion, your drive, every aspect of you working toward greatness within you and the work you do.
I want you to get better at loving yourself, giving yourself love affirmations, being true to who you are. I want you to get better at thinking positively, telling yourself great things about yourself daily.
These are things I'm constantly working on for myself which is why I'm writing this blog. I write these blogs for a purpose and a reason. 
Get better at saying no to things that don't fit into your life. Get better at controlling your narrative in life and not worrying about things too much. We are all works in progress and no matter what life throws at you, focus on the good and if you can fix and change the bad then do that. 
Let's get better at being disciplined in what we do in our lives. Creating daily habits of productivity, and working on something that will benefit you in the long run. Getting better everyday should be a continuous life goal with anything we set our minds to. 
Let's get better at telling people how we feel, expressing ourselves but also doing internal work. Let's get better at having uncomfortable conversations with those we are close to and speaking our truth. Let's heal all of the things that we've gone through in our lives. 
It's time to focus on what makes us great human beings and how our well-being is important. Let's get better at talking about our mental health and spirituality in the current moment. Let's have more conversations about our feelings, emotions and what's affecting us in our daily lives. 
How are you going to work at getting better at things in your life? What are you going to focus on the most? What do you need to achieve happiness within your soul? Think about it. That's my blog for today, be good everyone and go accomplish your goals!
Jamell Crouthers
Aquarianmind