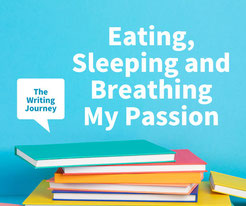 There are so many people in this world who love what they do and every single day. I'm one of them and I count my blessings that I am. When I talk about eating, sleeping and breathing my passion, I really mean it. It sounds cliche to you but it's something I live by on a daily basis.
There are mornings I'm eating breakfast and on my laptop planning out my day. Nights where I'm eating dinner and writing out brainstorming notes for a book I plan on writing. Nights where I forget that I didn't eat dinner yet because I'm immersed in a project I'm working on. Days where I don't eat enough because I know I have to finish a book I'm working on and I can't stop because I'm that focused. 
Nights where I'm laying in bed writing a book in my head. Or I get a book idea and I have to open my phone, put it in my notes and come back to it later. Even blog ideas come to me laying in bed and I know I had to put it in my saved notes of blogs to write. It's either going in my Mondays With Melo, Wednesday Motivation and Inspiration or on my Friday Book Insight. There are nights I'm thinking about my success and the moment where it all comes together and it all works out just the way I envisioned it.
Breathing this through speaking books into existence. Telling myself and those closest to me what I'm working on. Talking about how the books are going to be written, characters involved, subject matter and how many chapters it will be. Breathing this through my podcasts every week where I'm turning these blogs you read into audio format for you to listen to. Recording audiobooks that take weeks to complete because of the amount of focus and concentration it takes to pronunciate and verbalize feelings and emotions into what you've written.
Yes, this is my life, my blood, sweat and tears that I put into this. It's all I know at this point. It's a journey that I'll always continue to embrace and enjoy. That's my blog, be good everyone and go accomplish your goals!
Jamell Crouthers
Aquarianmind