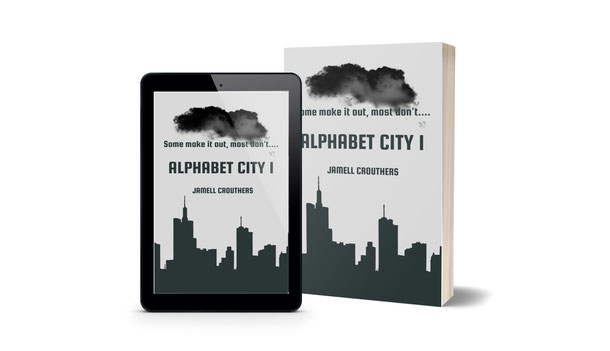 The year 2023 will bring my longest book series I've written to date. Alphabet City has been years in the works, it's just I had to focus on some other projects before I can delve into this one. This book series came to me in 2020 and I decided to plan it more in depth the moment I thought of the series. 
I knew it was going to be a series, I just didn't know how long it was going to be. When I started to think of life in a bad neighborhood, I put myself there (as I've been in my share of bad neighborhoods being from New York City). There's so much to talk about, the good, bad, indifferent and ugly parts of living and growing up in a bad neighborhood.
From the get go, you'll meet Larry Jamal (LJ) in Part 1 of the series and you'll learn of his story and how he was one of the lucky ones who got out. His life story will bring shock value early on in the series and if you don't know by now, I always pack a hard punch like Mike Tyson when I start a book series. 
When you learn about Alphabet City, you'll learn of the aura, the brain fogs people live in, drug dealing, violence, death, fast food restaurant, kids not being able to be kids, drug addicts, the first of the month (those who know, know what I mean) and a myriad of other things.
This was surely a challenging series to write and bring out characters that you'll never really see or read about. It's a glimpse into how hard life is for a large percentage of people in the United States from day to day. It's getting a full understanding of the struggles so many young black and latino men and women experience on a daily basis. 
While there's so much to be shared and written about this series, there's also trying to find solutions to the bad aspects of Alphabet City. The crime, gang life, violence, fast food restaurants, loss of community, policing, the loitering, drugs and anything else you can think of. 
I definitely enjoyed writing this series, it had its share of challenges and things I had to get through. It was a journey within itself and it took a few months to write the whole 12 book series. When I got going with writing this series, I immersed myself into it where I was able to complete books in a short amount of time. 
It took plenty of mental focus to write this book series and I had a great place to get my writing done. I without a doubt listened to music (lofi to be exact) and I got down to business and stayed focused on the journey of writing this series. 
Editing was surely a pain but there's nothing more fulfilling than going through the process on your own. There's a lot to read and I wanted to make sure I covered everything I needed to in this series. It's all worth it in the end, that's for sure. 
Each book in the series will be published on the 26th of each month for the whole year. 26 represents how many blocks Alphabet City is from letters A-Z which is why I'm publishing each book on the 26th of the month. I hope you all enjoy the series as it was a joyous ride to complete the longest series I've written. There are so many things covered in this series so if you don't read it in one book, it will be covered in another book at some point.
I hope you all enjoyed reading this blog, stay tuned, the first book of the series releases on January 26th, 2023!
Be good everyone and go accomplish your goals!
Jamell Crouthers
Aquarianmind