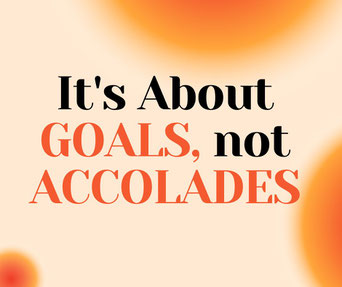 The title of this blog is important to me. The reason why is, I want you guys to know that it's all about my goals and not the accolades. I don't need the cheers all of the time and the congratulatory messages from people. It's about the content, it's about being inspiring, it's about motivating people to live their life to the fullest.
It's not about my ego or pretending to be bigger than what I really am. There's always goals for me to accomplish, that's what it's about. I care about so many things and it's about making the world a better place. The stories must be told, the discussions need to be had and the change must happen after. 
To get caught up in looking too far ahead, that can happen. To also be engulfed in getting awards and having fame, that can surely happen too. I'm humble and it's because I've been blessed with these talents and gifts from GOD. I don't take for granted all that I've been given to share with the world. I feel it's my moral duty to be transparent in writing these stories, my blogs, my podcasts and definitely recording audiobooks. 
Always know that I care about you guys and the world, not the fame that comes with my talents and gifts. I always say at the end of my blogs and podcasts, be good everyone and go accomplish your goals!
Jamell Crouthers
Aquarianmind